MP3 audio recordings by Yvonne Perry to help you grow spiritually.
---
Webinars
Some of the in-person classes, workshops, and online events that Yvonne Perry facilitates or participates in are recorded. These are offered as recorded classes and audios below.
Activate your light language privately and at your convenience with this previously recorded audio of a class from an online group.  Teaching about light language is interwoven with the drumming, toning, speaking, gesturing, and writing of light codes. Participants in the class share what they are experiencing as the activation progresses.
---
The mission of starseed healers is to bring the human ego/psyche to the knowledge of the divine self and to help it overcome detrimental programming. When the starseeds walk in to human bodies, sudden shifts can occur in personal interests, relationships, and self-esteem. The wounded ego/psyche objects to these life-changing effects and begins to strongly voice its dissatisfaction and tries to stop the changes. This action serves to expose areas of woundedness that are most ready to be reprogrammed. This is when the empowered starseed consciousness is most needed.
Unfortunately, these changes can sometimes cause a starseed to forget why it has come to Earth. As it succumbs to the programming that all humans have been subjected to, it begins to focus on what is "wrong" with the situation rather than on how powerful it is to create positive change. It identifies itself as the ego and collaborates in self-sabotaging efforts. It is time for starseeds to wake up and realize what is going on, and to get back on task as the observer.
The purpose of this audio is to help the starseed remember the nature of its divine origin, see things from a higher perspective, and align with the Love that can compassionately alter the human experience.
---
In this 1-hour audio class, Yvonne Perry teaches how to generate and direct energy to each chakra and then collect blended energies of the upper and lower chakras and store this life force for later use. Here is how to manage energy within your own field and body and minister to others without depleting your own energy. Practice along with participants in the live class who give their feedback on what they are experiencing while working the exercise in real time.
Every empath who has been struggling to manage external energy will benefit from the teaching on energy management. No more setting up walls and maintaining barriers to keep out unwanted energy. Learn to direct your energy and become the catalyst for raising the vibration of the environment around you.
---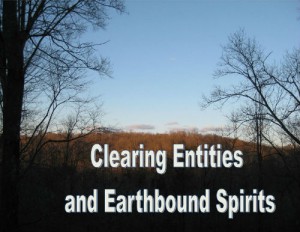 Are you having problem with ghosts in your home?
Earthbound spirits are souls that did not cross over after departing from the body. They are humans without skin! There is a compassionate way to cross them over and send them into the light. Methods some people use to remove ghosts or spirits can make matter worse. The information in this audio will help you understand how to cross a spirit over into the light without angering them or causing retaliation.
Learn how to clear entities and earthbound spirits from your home or property.
---
All of life's experiences are recorded in the Akashic records. Trauma and abuse of any kind is stored in the cellular memory of the emotional, mental, and physical bodies. The codes delivered in this 30-minute video meditation for healing sexual trauma helps to release and transmute the detrimental energy from the body, subtle bodies, and electromagnetic field. They also have the ability to re-script the Akashic records whereby all that remains of the experience are the lessons that the soul needed to learn and grow.
With a guided meditation to walk you through generating and accepting more love for yourself and to begin the process of forgiveness, this light language transmission will help support anyone who has been a victim of sexual trauma. If you are looking for an alternative manner to deal with the energetic aspect of this experience, this is a great way to start.
Yvonne Perry is a practitioner of light codes, verbal, gestured, and written. In this audio you have the benefit of hearing the codes spoken and seeing the codes written especially for healing of sexual trauma and abuse.
---
Yvonne has been a guest on many radio shows where she has shared information on a variety of metaphysical topics. She leads workshops, large and small, throughout the world. If you'd like to host her as a seminar leader or workshop facilitator please
contact Yvonne
.
---
2021
Jinelle and Yvonne discuss walk-ins, soul upgrades, timeline integration, and multidimensional reality as part of the ascension process. There is a light language transmission at the end for those going through spiritual transformation, those who are pregnant or hope to bring forth a child, blessing for children

Todd Medina of Soulogy  and Yvonne talk about walk-ins on SOULSPEAKS 5D.
2020
Jan 15, 2020 Yvonne Perry Recently was one of 30+ speakers invited to share in Alexis Cohen's Artist Ascension Masterclass.
April 14, 2020  Rev. Janice Hope Gorman Interviews Walk-In expert and Celestial Shaman Yvonne Perry
2019
July 8, 2019 Todd Medina and Yvonne discuss walk-ins and light language on SoulSpeak.
2018
October 1, 2018 Chat about Walk-ins on Blog Talk Radio CinnamonMoon
September 14, 2018  New Earth Cosmic Conversations with Anrita Melchedek
June 12, 2018 Yvonne discussed light language in a radio interview with Dianne Morgan.
2017
December 7, 2017 Yvonne Perry and Selin Bilgin shared an interview to discuss light language and its practical uses for personal growth (https://youtu.be/AQPHCtnBEl0).
October 31, 2017 Tammy Deans and Amanda Benoit discuss with Yvonne Perry how light language is used in everyday life and with clients. How is Light Language Used?
June 24, 2017 Women's Light Language Roundtable Hosted by Tolec with Shekina Rose, Anara LightBear and Yvonne Perry
Yvonne Perry and Dr. Karen Kan to learn: What is Light Language?
2016
March 10, 2016 – Irene Conlan hosted Yvonne on The Self Improvement Radio Show.
2016 Walk-ins and soul exchanges Yvonne's interview with Dr. Karen Kan.
2015
December 9, 2015 Yvonne was the guest of Amy Bregy and June Elaine on "Bridge Between Two Worlds" Blog Talk Radio Show
December 9, 2015, Yvonne spoke about walk-ins and light language when she was a guest with a live audience on "Bridge Between Two Worlds".
November 12, 2015 David Clark hosted Yvonne Perry as his guest on "Different Strokes for Different Folks" on Blog Talk Radio. The discussion was about integrating your shadow side and learning to walk in the light.
November 7, 2015 Yvonne facilitated a light language activation workshop at Ervin Hypnosis Center in Bartlett, Tennessee.
July 15, 2015 Blogtalk Radio guest on Joy Radio with host Patty Welek Hall Yvonne discussed the changes we are going through and why we are getting downloads from higher realms. There is a powerful light language activation at the end which helps to open the fifth chakra or communication center for the expression of the authentic self.
June 18, 2015 Yvonne shared her piece of the cosmic puzzle on Transformation Talk Radio when she was the guest of Dr. Susan Allison on We Carry the Light.
June 10, 2015. "Empaths Keeping a High Vibration" was discussed with Sue Sides on Yvonne gave tips for raising and maintaining the frequency of love in every situation.
2014
November 24, 2014 Yvonne was the guest of Kelliena Smith on Eye of the East Coast broadcast on EGH Radio.
November 17, 2014 Yvonne was David Clark's guest on Different Strokes for Different Folks
June 16, 2014 Yvonne was Maxine Taylor's guest on Move into the Magic  to speak about her new book, Light Language Emerging.
June 2014 Keynote speaker at Walk-ins Among Us Nashville Conference ~ Hyatt Place Hotel Airport, Donelson, TN
Listen to Yvonne, Tucah, and Vic talk about walk-ins on Lost Knowledge Radio Show with Debbie West and Michael Hathaway.
Religion vs. Spirituality ~ Is There a Difference? Yvonne Perry was David Clark's guest on his Blog Talk Radio Show, Different Strokes for Different Folks.
The Reign Radio with host Kimmi Jae.
2013
June 24, 2013 Yvonne was a guest speaker on the Walk-in Phenomenon Webinar Series.
May 3, 2013 Kerry Cassidy interviewed Yvonne on Project Camelot Radio about soul integration.
March 16, 2013 With her co-author, Dr. Caron Goode, Yvonne discussed psychic children and walk-ins on The Fringe Radio with Pat and Carol.
March 14, 2013 Yvonne was Starr Weldon's guest on The Walk-in Cafe.
2012
July 17, 2012 Yvonne was Dr. Irene Conlan's guest on The Self Improvement Show and talked about ascension (purification process leading us into higher consciousness) and about integration and wholeness.
July 5, 2012 Yvonne was a panelist on Shifting into Purer Consciousness Ascension Training Telesummit where she spoke about ascension symptoms.
July 3, 2012 Lynn Serafinn hosted Yvonne with an interview about the ascension process on Garden of the Soul Radio
July 1, 2012 Maxine Thompson interviewed Yvonne about her book, Shifting into Purer Consciousness, on The Maxine Show
June 18, 2012, Shelly Wilson hosted Yvonne on Journey into Consciousness Radio Show to speak about her new book, Shifting into Purer Consciousness.
February 14, 2012 Yvonne Perry was a panelist for "From Fizzle to Sizzle Relationship Telesummit"
January 26, 2012 Ms. Perry was a panelist for the online telesummit "From Trauma to Transformation"
January 19, 2012 Yvonne was the guest of Dr. Susan Allison on Empowered Healer Radio Show
March 7 Energetic and Psychic Boundaries, The Hillary Raimo Show on Achieve Radio.
March 5 – Shelagh Jones' interview with Yvonne for Spiritus Blog.
2011 & Before
March 24, 2011 – Faith Ranoli interviewed Yvonne on Heart and Home Radio Show
Yvonne Perry talked about walk-ins and soul aspects as the guest of Chuck Gotski on In the Dark Radio, a paranormal show on HeyZRadio.com.