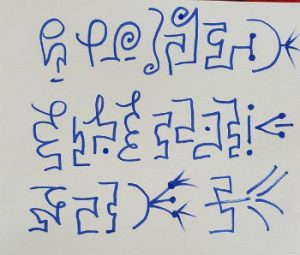 My next online light language activation class will be held April 24 from 1-3 PM Central Time. Join us to practice freedom of expression from your heart, or to activate your light language for the first time. 
During the video or phone call conducted through Zoom app, we will learn what light language is, and offer each person a chance to ask questions and give comments. The agenda includes:
Singing & toning the frequencies of light
Speaking galactic languages
Writing light codes (Look at the beautiful symbols made by participants in our March class!)
Gesturing light codes with intuitive mudras 
Directing energy with body movement 
Drumming the codes of light
Singing bowls, drums, and gongs are ancient instruments that use sound and vibration to align the cells of the body. These and other musical instruments are compatible with the frequencies of light language. I use the singing bowls and a variety of drums to enhance what I'm transmitting vocally.
When the vibrations come through the vocal chords, no external instrument is needed. Activating the healing energy requires that the "singer" align with Source and become the instrument. You can take your voice with you everywhere–no worries about it fitting into a suitcase or getting broken in travel. Therefore, I want to assist people in opening to the language of light and to use this healing tool every day.
Expressed from the heart, the verbal syllables and sounds of these "unknown" languages touch a place deep within the soul/psyche that "known" words do not. A known language ministers to the mind and intellect and can help us make a shift in our understanding, which is very important. The language of light ministers to the DNA, the subconscious, and the cells of the body where detrimental experiences have been energetically held. It is more of a heart/soul language and does not need to be understood logically. In fact, the more open you are to the innocent, child-like state of your unprogrammed self, the more energy you will sense in these vibrations.
These syllables rarely come with a literal interpretation; but, we can feel where the energy is moving and working. Sometimes we get a gist or a knowing of what is being transmitted. The changes I've seen in my clients since I started using light language in my practice are amazing. I'd like to help you activate this gift to assist with your own healing and evolution.